You must allow cookies and JavaScript for a proper shopping experience.
Price: $18.00
Publisher: New York, Knopf : 1980
Seller ID: 905
ISBN-13: 9780394510118
Binding: Hardcover
Condition: Very Good+ in Very Good dust wrapper
---
245 pages; Remainder mark bottom edge, spine head lightly bumped, top edge very faintly faded. Dust wrapper, price clipped, has price sticker on back panel. White dw lightly soiled and edgeworn with one tiny closed tear and one tear on rear panel at spine gutter. ; Uncle Oswald, the great rogue and fornicator, has been mentioned in some of Dahl's short stories. In this, Dahl's first novel for adults, Uncle Oswald has discovered the world's most powerful aphrodisiac and a method of quick-freezing sperm. So with the help of the gorgeous Yasmin Howcomely, he sets out to preserve 51 living geniuse...
View More...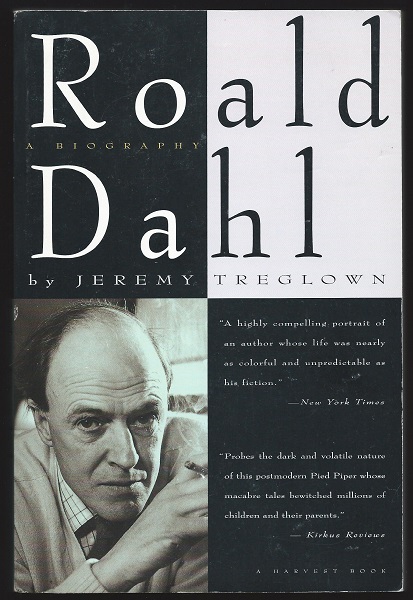 Price: $9.75
Publisher: San Diego, Harcourt Brace & Company : c1994, 1995
Seller ID: 7107
ISBN-13: 9780156001991
Binding: Softcover; Trade PB
Condition: Very Good
---
No spine or cover creases, light edgewear and rubbing, a few smudges to page edges.; 'Misogynist, anti-Semite, misanthrope--Roald Dahl was reputed to be these as well as war hero, devoted father, and philanthropist.' This unauthorized biography is "an honest yet deferential biography... Born in England to Norwegian parents, Dahl (1916-90) was a difficult and opinionated man whose life was riddled with tragedy... Although Dahl achieved success through his novels, stories, and screenplays, he found his niche in writing for children. His tales were sometimes criticized as too gruesome, yet t...
View More...