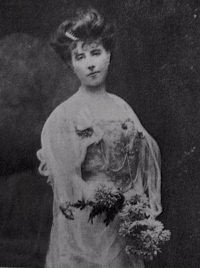 Elizabeth von Arnim
August 31, 1866 - February 9, 1941
 Nee Mary Annette Beauchamp, upon her first marriage she became Countess von Arnim-Schlagenthin, and after her second marriage she was known as Elizabeth Russell, Countess Russell. She wrote anonymously and under the pseudonyms  "Elizabeth",   and after the success of her first novel  "The Author of Elizabeth and her German Garden".
All books are subject to prior sale.  All dust wrappers are in protective mylar covers.
We attempt to describe all flaws. We want you to be pleasantly surprised instead of disappointed when your books arrive.

Digital photograph of any book sent via email upon request. 

Other catalogues accessed by using the dropdown menu Catalogues above.
We have had several requests for a list of Elizabeth's books. Courtesy of one our kind customers, Jeannine K., we now have this an informational bibliography listing titles and first date of publication. Click Elizabeth bibliography to see it.
Thanks again Jeannine!